Purple Door Coffee is a well-established Denver coffee roastery that enjoys a strong reputation for ethically sourced and finely roasted craft coffee. We are committed to artisan handcrafted quality, direct relationship buying with ethical coffee growers and importers, and a roasting philosophy that highlights the characteristics of the origin.
All of our coffee is sourced from direct trade resources. Direct trade is a type of coffee sourcing that involves buying coffee beans directly from farmers. Under direct trade, coffee farmers get a better deal and roasters and consumers get better access to the world's highest quality coffee beans.
Our Coffees ~ Single Origins
We offer a variety of single origin coffees. These offerings change regularly so please check back often to see our most current offerings.  
Organic Kivu Virunga Blend, DR Congo
Notes: Peach, Dried Plum, Brown Spice, Caramel, Citrus Zest
The farming community in North Kivu has become accustomed to adversity. Armed incursion, corruption and disease are part of everyday life, but in coffee they see hope. Coffee is one of the only cash crops these producers grow. It puts money on the table, brings stability to the community and enables farmers to plan.
The Coopade Cooperative is an exciting new Coop with a network of 24 micro-mills along the western rim of the Rwenzori Mountain Range. The benefit of working through a Coop is of huge importance to smallholders since North Kivu is landlocked. Plugging Congolese coffee into the global supply chain means transporting it to the Port of Mombasa in Kenya to reach the sea. Thus, working collectively is essential. Coopade is also focused on expanded production and quality.
The farming community borders the Virunga National Park which occupies the Semliki River Valley in the 140 km stretch between lakes Edward and Albert in the westernmost arm of the Great Rift Valley. Cocoa and palm oil are also grown in the lower zones, and new crops such as chia seed are also starting to take root. The conditions here are ideal for growing coffee: deep, fertile, volcanic soil, high altitude and adequate rainfall.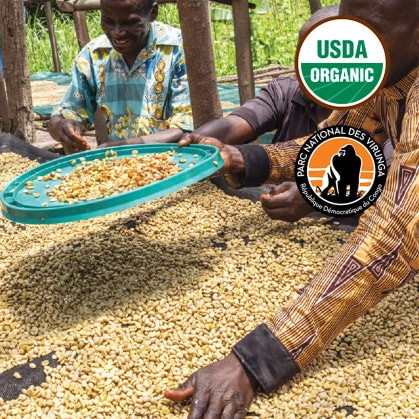 About Virunga National Park and North Kivu
Located at the borders of Uganda, Rwanda and Burundi, the Kivu area is home to coffees with stunning cup profiles. While the area is subject to on-going conflicts, a cooperation between coffee farmers, Farm Africa and the Virunga National Park is encouraging peace through the growing of specialty coffee.
Established in 1925, the Virunga National Park is the oldest national park in Africa and one of the last refuges of the mountain gorilla. It is also home to highly endangered lowland gorillas as well as elephants, chimpanzees, lions, leopards, antelopes, and the most diverse collection of birds in the world. Due to its situation in eastern DR Congo, the park faces many existential challenges.
For Virunga National Park the conservation of its extraordinary wildlife goes hand in hand with the promotion of the social and economic well-being of the people of North Kivu, who live around the park. Through the Virunga Alliance, which is supported by the provincial authorities, civil society and the private sector, the national park is investing in a number of initiatives to promote economic regeneration – most notably a major hydroelectric generation and distribution venture. This is already bringing employment opportunities as well as access to electricity for thousands of households.
The park is also embarking on a major agriculture program with the vision of boosting the livelihoods of smallholder farmers who live around the p  Coffark by investing in the production and marketing of their food and cash crops, including coffee. In this way, the pressures on farmers to encroach on the park to extract wood for charcoal will be reduced and farmers will see benefits from the park's presence.
Process: Washed
Photo by Carl de Keyzer / Magnum Photos for the Virunga Foundation  Coffee information – Genuine Origin
Kayon Mountain Farm, Guji Ethiopia
Notes: Berry, Cocoa, Jasmine
The Kayon Mountain Coffee Farm is 500 hectares with about 300 hectares planted in coffee and has been owned and operated by Ismael Hassen Aredo and his family since 2012. It is located 510 kilometers south of Addis Ababa, and the property crosses the border of two villages—Taro and Sewana—located in the Oromia region, in the Guji zone of the Shakiso district of Ethiopia.
Ismael oversees a staff of 25 permanent full-time and 300 seasonal employees, and the farm management offers free transportation services as well as financial support for building schools and administration buildings for the community.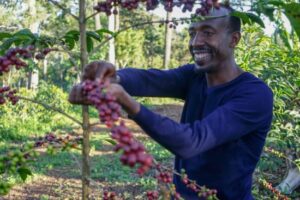 The farm competes with a nearby mining village for seasonal workers, so Ismael and his family tend to pay higher wages to their pickers in order to incentivize them returning year after year.
Kayon Mountain farm has a nursery on-site and utilizes shade (acacia and other indigenous trees) to protect the coffee as well as for creating compost to fertilize naturally. Ismael is meticulous about not only the structure and management of the farm itself but also the harvesting and processing. Both Natural and Washed lots are produced on the property.
Process: Natural  Natural coffees are typically delivered the day they are harvested, and are first sorted for ripeness and quality before being rinsed clean of dirt. Then they are spread on raised drying beds or tables, where they will be rotated constantly throughout the course of drying. Drying can take an average of 8–25 days, depending on the weather.
Finca Desamparados, Costa Rica
Notes: Balanced with sugary sweetness and mouthfeel, toffee and citrus fruit flavors
Producer, Jhonnathan Camacho is a descendant of one of the first coffee growers in the West Valley, his grandfather Rafael Camacho Vega. His primary occupation is as a doctor, but a passion for coffee has stayed in his family, and he continues to grow on a small farm. Since Jhonnathan is busy with his medical practice, he has partnered with Genesis mill to take care of the processing and drying of his coffees during the harvest, but he still stays close by: He lives nearby to the Mendezes and will visit a few times a week to check on his coffees until they are ready for shipment.
Although this offering is not traceable to a single variety, it is likely comprised of Caturra, Catuai, Bourbon, Villa Sarchi, Villalobos, Sarchimor, Venecia, and Costa Rica 95 — the most commonly cultivated varieties in this region. Process: Yellow Honey
Our Blends ~ Our four core blends are built of the same coffees, but roasted differently. 
Opportunity Blend   Light Roast *  South American Blend  Notes of Chocolate, Toasted Nuts, & Mixed Berry
This is our standard house blend and our lightest offering. It's chocolatey sweet and rich–your classic everyday cup of coffee. It's made up of a Colombian and Brazil that we are able to access year-round. So, it's a consistent blend that is always using seasonally fresh green coffee. Ideal for your morning coffee staple!
Empower Blend  Medium/Light Roast  *  South American & Ethiopian Blend  A well balanced blend with notes of Caramel, Cocoa and Berry. 
Thrive Blend  Medium Roast  *  South American Blend  Hints of Dark Chocolate that drinks rich and smooth.
Motivate Blend

 

Dark Roast  *  South American Blend  Bold notes of Dark Chocolate and Caramel.
Pour Over
Step-by-step instructions for making your coffee with Pour Over (Chemex or V60).
French Press
Step-by-step instructions for making your Purple Door Coffee using a French Press.
AeroPress
Simple and portable: What's not to love about AeroPress? Instructions and details here.
Single Serve Bags
When you're in a hurry and want to take your Purple Door Coffee wherever you're headed… 
Different brewing techniques require different sizes of coffee grind, based on how long water and coffee are in contact. Generally, brew methods with shorter contact times, like espresso or Aeropress, require a finer grind size; longer, slower brew methods, like French Press, work better with a coarser grind.
Taste and brew time tell you which direction to go. If your mouth feels dry with an ashy aftertaste, you're likely grinding too fine. If the coffee tastes weak, sour, or a little papery, you may be grinding too coarse.
No matter which brewing method you choose, these general rules of thumb will help ensure best results:
-Use freshly roasted and just-ground coffee.
-Brew with water heated to between 195 and 205F.
-Use 1.6–2 grams whole bean coffee per 1 oz (28 grams) water, adjusting to taste.
-Store whole bean coffee in an airtight container, out of direct sunlight, and away from heat, cold, and moisture.
Don't Miss an Opportunity to Make a Difference
Your meaningful gift allows Purple Door Coffee to continue to be a place of holistic employment, teaching and support to young adults transitioning from street life to self-sufficiency.